Events : Invitation to Celebrate with NAACP & LULAC: Thursday, January 22nd @ 6pm
Posted by admin

on 2009/1/12 11:20:00

(

1598 reads

)
In honor of Dr. Martin Luther King, Jr.'s legacy and Barack Obama's historic inaugural address, we want to invite you to a very special celebration. At our event, University of Phoenix and the state presidents of LULAC and NAACP will present on their social missions, discuss how their partnerships serve the community and reveal their hopes to adopt a project that can empower people through education.

We hope you can join us!

Thursday, January 22
6 p.m.

Greater Cincinnati Campus
9050 Centre Point Drive, Ste. 250
West Chester, OH 45069


Please RSVP to:
Chris Montagnino
513.551.5151





West Chester | Dayton | Florence, KY
Comments?
Events : HDTV coming to MidwestLatino
Posted by admin

on 2009/1/4 11:40:00

(

1767 reads

)
As most of you know, Digital TV is coming to the USA, and it's time to say "goodbye" to analog TV on February 17th, 2009. If youTV is still old-style analog TV, you'll need a convertor box, or a new Digital TV.
You can find more information at www.dtv.gov
Most of the TV stations are alrady transmitting in digital, and some of them in High Definition TV (read more about HDTV)
MidwestLatino has been always on the forefront of new developments and always investing in new technologies, so as of now we'll be publishing all our new videos on YouTube in HD format.
As first, we have a Birthday dance of Ismail in Havana Martini Club last week.
To see this video in HD on YouTube, please click here.
Of course, you'll need a fast Interned connection (cable or DSL) and a hi-res monitor. Normally, YouTube videos are presented in a low resolution. But they will have a little link below the video's right bottom corner, showing if a given video can be viewed in high-resolution.
We have also upgraded our photo technology, and as a result, pictures from our events look better than ever before, with more vibrant colors and higher resolution!
Enjoy it!
And Happy Birthday to Ismail!!!
Comments?
Events : Havana Nights @ Havana Martini Club (Dec. 17 2008)
Posted by admin

on 2008/12/19 16:10:00

(

3783 reads

)
Happy Birthday to Elizbeth, Israel and Mason. See the Birthday Dance in the Video above
And "welcome back" to Rachelle!
More pictures are in our Photo Gallery - click here ...
HOTTEST Wednesday nights with hottest Salsa dancers in town - the "Havana Nights". In the most classy Salsa location in town, according to Cincinnati Enquirer!!!
With FREE admission, FREE dance lessons, Cincinnati's BEST Salsa dancers, and the BEST Latino DJ in town, the legendary Rudy Alvarez, spinning the hottest Salsa, Merengue, and Bachata music, this is the undisputed place to be on Wednesday nights...
Havana Martini Club is located on 5th St., between Race St. and Vine St.
Now, also EVERY Thursday: 8:00pm-1:00 am the Latin Mix Thursdays in Havana Martini Club - with Happy Hour prices for appetizers till 1 AM!!!

Free Dance Lessons at 8 PM
Comments?
Events : Las Posadas in Cincinnati (Dec. 16th, 2008)
Posted by admin

on 2008/12/16 22:30:00

(

1447 reads

)
Las Posadas (Spanish for "The Inns") is a eight-day celebration with origins in Mexico beginning December 16th and ending December 24th. It is a yearly tradition for many Catholic Mexicans and some other Latin Americans and symbolizes the trials which Mary and Joseph endured before finding a place to stay where Jesus could be born. It is a very important Christmas Tradition for the people of Latin America.
Latin American countries have continued to celebrate this holiday to this day, with very few changes to the tradition. In some places, the final location may be a church instead of a home. Individuals may actually play the various parts of Mary (Maria) and Joseph with the expectant mother riding a real donkey (burro), with attendants such as angels and shepherds acquired along the way. Or the pilgrims may carry images of the holy personages instead. At the end of the long journey, there will be Christmas carols (villancicos), children will break open pinatas by striking these colorful papier-mache objects with bats while blind-folded to obtain candy hidden inside, and there will be a feast.
Every home has a nativity scene and the hosts of the Posada act as the innkeepers. The neighborhood children and adults are the pilgrims (Peregrinos), who have to request lodging by singing a traditional song about the pilgrims. All the pilgrims carry small lit candles in their hands, and four people carry small statues of Joseph leading a donkey, on which Mary is riding. The head of the procession will have a candle inside a paper lamp shade.
The pilgrims will symbolically ask for lodging at three different houses, but only the third one will allow them in. That will be the house where the Posada will be held for that evening. Once the "innkeepers" let them in, the group of guests come into the home and kneel around the Nativity scene to pray (typically, the Rosary). This is followed by the singing of traditional Christmas songs and a party for the children, including a piñata.
This year, the Hispanic Chamber Cincinnati USA , has organized for the very first time in Cincinnati Las Posadas, that took place in the Cincinnati Art Museum. We had our three Wise Men, piñata, and a lot of good food. Expect this to become an annual tradition.
More pictures are in our Photo Gallery (click here...)
Comments?
Events : Symphony Welcomes Costa Rican Conductor Guerrero December 18 & 20
Posted by admin

on 2008/12/16 15:20:00

(

1478 reads

)
The Cincinnati Symphony Orchestra invites members and friends of MidwestLatino to join members of the CSO Multicultural Awareness Council for a spectacular evening of music featuring Costa Rican guest conductor Giancarlo Guerrero.

¡ BIENVENIDOS!
Please join members of the CSO Multicultural Awareness Council (MAC) for an evening of

WINTER ENCHANTMENTS

with GIANCARLO GUERRERO, Conductor (more info)
GABRIEL PEGIS, Violin
Thursday, December 18 , 2008
6:15 PM Complimentary Light Dinner Buffet (in the Music Hall Ballroom)
7:30 PM CSO Concert


MUSIC HALL (1241 Elm Street)

Concert repeats on Saturday, December 20 at 8 pm

*****

EXCLUSIVE OFFER FOR MIDWESTLATINO MEMBERS & FRIENDS

BUY ONE TICKET, GET ONE FREE!*

(or 50% off an individual ticket)

for either December 18th or 20th

For details and to buy your tickets online, click this link to Cincinnati Symphony Orchestra or call the CSO Sales Office at 513.381.3300.

*Use PROMO CODE 3654 to receive your discount. Limit 4 tickets. Subject to availability. Not valid with any other promotion or discount.

Stoke the winter glow with a selection of works to warm your heart, featuring the CSO concert debut of Costa Rican conductor Giancarlo Guerrero. Recently appointed Music Director of the Nashville Symphony Orchestra, and concurrently finishing his seven-year tenure as Music Director of Oregon's Eugene Symphony, Mr. Guerrero presents a delightful program of Rossini's "La boutique fantasque" (The Fantastic Toy Shop), Vivaldi's shimmering "Winter" and Prokofiev's tuneful homage to Haydn and Mozart.

For your dining pleasure, your group will have specially reserved seating for the light dinner buffet. MAC members, your hosts for the evening, will be on hand to welcome and introduce you to the CSO experience. Can't make Thursday's concert? Then join us on Saturday, December 20 for the concert only.

After the concert, you'll go backstage to meet Maestro Guerrero in the Green Room. And for our late night music lovers, the fun continues with salsa dancing at Havana Martini Club, downtown.

These concerts are part of the Multicultural Awareness Council (MAC) Concerts celebrating the cultural diversity, history and heritage of the season's outstanding artists and composers.

Comments?
Events : Last performance of "Salsa Caliente" @ Havana this Saturday (Dec. 6, 2008)
Posted by admin

on 2008/12/3 13:40:00

(

1604 reads

)
FELIZ NAVIDAD Y ADIOS!
From
SALSA CALIENTE!
HOLIDAY DANCE PARTY & FAREWELL PERFORMANCE
Please join us to celebrate the Holiday Season with SuperHOT Latin Dance Music and
to say good-bye to Salsa Caliente at its last and final performance after eight great years
bringing Latin dance music to Cincinnati and to all our wonderful fans and friends.
Saturday December 6 @ Havana Martini Club
Party till 2:00am (Band 9:30-1:30) - Cincinnati's SuperHOT Latin Night!

Comments?
Events : Latin American Culture Fest @ Cincinnati Museum Center (Nov. 22-23, 2008)
Posted by admin

on 2008/11/21 14:50:00

(

1894 reads

)
The Eigth Annual Latin American Culture Fest will take place this weekend at the Cincinnati Museum Center,

This Festival will kick off the 2008-2009 Passport to the World series that allows visitors to see, hear, touch and explore other cultures without leaving Cincinnati. Each Passport celebration highlights one cultural heritage with a variety of displays, activities and performances. The events provide a forum where visitors can interact with and learn about community members of different cultures.

The Rotunda will alive with Hispanic music, dance, arts, crafts, and more representing the cultures of Mexico, Argentina, Peru, Colombia, Brazil, Cuba and Panama. Latin American vendors will be selling jewelry, clothing, and many other items related to Hispanic culture. Musical and dance performances run the gamut from the traditional to the contemporary. And children and adults could learn about the many Latin American cultures first-hand through educational and interactive activities.
Cincinnati's top Salsa bands Tropicos, Son del Caribe, and Salsa Caliente will perform there as several dance groups, such as Colombia Viva!, Danza Contigo Peru, Que Lindo Es Panama, and La Troupa Tanguera.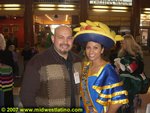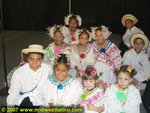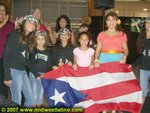 More pictures from last year are in the Cincinnati section of our Photo Gallery (click here...)


Video from Saturday, Nov. 17, 2007 Video from Sunday, Nov. 18, 2007
Read More... | 4906 bytes more | Comments?
Events : A Seductive Night in Spain (Sat. Nov. 22)
Posted by admin

on 2008/11/21 10:10:00

(

1984 reads

)
A Seductive Night in Spain
Featuring Soprano Angela Brown
On Saturday, November 22, Cincinnati Opera will present its 2008 Opera Ball, "A Seductive Night in Spain," featuring soprano Angela Brown, in the majestic Music Hall Ballroom. This elegant event is Cincinnati Opera's largest annual fundraiser, generating essential support for the company's 2009 Summer Festival.
Details
Inspired by the upcoming Spanish-themed season, the Music Hall Ballroom will be spectacularly transformed into a plaza in Spain, with extravagant Spanish-inspired décor, lush expanses of roses, flamenco dancing, amazing food, and live entertainment.
For more info, click here
Late Night in Spain After-Party
Again this year, Cincinnati Opera will present a high-energy after-party, "Late Night in Spain," for young professionals. Tickets are $30 and include music, dancing, and a midnight buffet. For more information please contact Christine Reedat (513) 768-5520 or creed@cincinnatiopera.org.
Comments?
Business : NSHMBA GMAT Prep scholarships Winners
Posted by admin

on 2008/11/19 14:50:00

(

2558 reads

)
The National Society of Hispanic MBAs (NSHMBA) is proud to announce the winners of the GMAT Prep scholarships offered in partnership with Kaplan Inc. Francisco Cadena, and Alina Rodriguez Arriaga were presented with scholarships on October 27, 2008 in Cincinnati, Ohio. The scholarships are intended help prepare both winners for the GMAT examination, one of the primary requirements for applying for the master's program in business administration. The emphasis of this scholarship is to encourage Hispanic professionals to pursue an MBA and reflects the mission of NSHMBA to promote Hispanic leadership through graduate management education and professional development.

Alina and Francisco have both been members of NSHMBA for the past year and intend to pursue their MBAs within the next year after completing the Kaplan GMAT prep course. Alina has been involved in various community service activities including volunteering at animal shelters in Mexico , where the large number of animals living in the streets poses a significant problem affecting public health. While residing in Cincinnati , Alina, a GE Aviation employee, actively participates in the GE Hispanic Forum, which indirectly helps recruit, develop and retain Hispanic talent by providing a support system comprised of coaching, mentoring and role modeling. Francisco, an Accenture employee, also maintains active involvement in helping attract and retain minority employees within Accenture, a global management consulting, technology services and outsourcing company.
Comments?
Business : Savvy Señorita Financial Guidance Happy Hour (Wed. Nov. 12)
Posted by admin

on 2008/11/8 7:40:00

(

2358 reads

)
New series helps women have a posh today and prosperous tomorrow

Want all those fab shoes and a million bucks, too? You might not be asking for too much, even with the Dow falling faster than you dropped your ex.

Come to Havana Martini Club (on 5th St. downtown, between Race & Vine) next Wednesday, Nov. 12 at 5:45 p.m. for socializing and a short financial guidance program. Yummy hors d'oeuvres and tasty beverages will be served.

Cynthia "Cid" Kamuf, CFP® (a Cincy Chic freelance writer) and Jay Hand, both Independent Contractors of Money Concepts International, Inc., will give you a few tips on how to plan for a healthy financial future without giving up your shoe fetish.

RSVP Tabitha Humphreys by 3 p.m. on Nov. 11 at (513) 563-3075 or thumphreys@moneyconcepts.com ....but hurry! They're limited to 20 participants!
Afterwards, stay for free Salsa dance lessons at 8 PM, and Salsa party till 1 AM
Comments?